A new fire trailer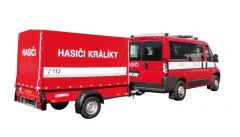 In recent years, more and more fire societies and associations started to turn to us, whether from among professional or voluntary bodies. Firemen solve primarily problems with PPS 12 trailers being past service and individual trailer solutions for various techniques.
VEZEKO s.r.o. has included a number of trailers in his production program that can be used both for sport as well as intervention purposes. We have delivered a number of flood protection specials, motor-boat transporters, possibly box intervention trailers to professional firemen.
Last week, we sold for use a new fire special – the modified trailer SPECTRUM B 08.25. It is an unbraked trailer equipped with metal, red-lacquered drop sides and red-lacquered canvas with structure 1550 mm. The loading surface of the trailer equals 2570 x 1300 mm. Another accessory that the firemen ordered was an aluminum box for storing B and C type hoses and holder of suction hoses from plastic tubes.
For transport of the motor pump, we have developed a new tilting holder with a supporting foot. The trailer will transport complete intervention equipment and accessories and will be steadily connected with the fire utility vehicle.
You can take a look at the pictures of the trailers.